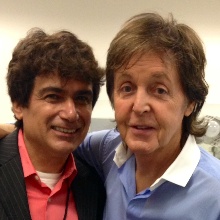 Announcer:
ChaChi Loprete


Shows:
Breakfast With The Beatles
Contact
Born and raised in Cambridge, Massachusetts, Larry "Cha-Chi" Loprete's love for music began on February 9th, 1964, the day The Beatles performed for the first time in the U.S. on The Ed Sullivan Show. For many who witnessed it, The Beatles stirred up a passion for creativity and possibility and for ChaChi, it soon evolved into a lifelong love of radio. In 1981, Cha-Chi fulfilled what he describes as his "ultimate dream". He began his radio career as a listener-line volunteer at Boston's biggest rock radio station: WBCN 104.1FM. With hard work and determination, he was soon hired as Assistant Promotion Director. His expansive knowledge and love for The Beatles became clearly evident to his radio peers and this passion paid off in the mid 1980's when Cha-Chi was granted the extraordinary opportunity to have an air shift on WBCN as the host of a new program called Get Back To The Beatles.
In 2001 new stripes were added when Cha-Chi was appointed Marketing Director for both WBCN and WZLX.
In 2005 ChaChi became host of Breakfast With The Beatleson WZLX.
Through the years, Cha-Chi has interviewed Paul, George and Ringo on multiple occasions as well as many other significant 'Beatle People' in the close knit Beatles circle George Martin, Yoko Ono, Julian Lennon, Cynthia Lennon, Patti Boyd-Harrison and Pete Best among them.
Cha-Chi's extensive knowledge of The Beatles, both as a band and individually, and his significant collection of Beatles memorabilia is well known in the greater Boston area.
He is often regarded as Boston's Beatles Historian and keeper of the flame. Cha-Chi frequently hosts Beatle events in and around the city and twice hosted and narrated multiple Beatles concerts with the legendary Boston Pop's - 'Pops Plays The Beatles' with Keith Lockhart and 'The Beatles and Beyond' with the Boston Pops with Conductor Steve Hackman.
"I'm very excited to bring Breakfast With The Beatles to the listeners of WUMB. Said Cha-Chi Loprete. It is the beginning of a journey I will look forward to every Saturday morning."
Listen every Saturday morning on WUMB from 6:00am-8:00am for Beatles music, interviews, rarities, solo Beatles, Beatles news and much, much more!
Cha-Chi Loprete resides south of Boston with his beautiful wife Stephanie and family of rescue cats and chickens. They both share a passion to help animals and support many organizations including multiple animal rescue shelters and 4H.