HD Radio technology is a method of transmitting audio and data. It transmits digital information instead of analog. HD Radio technology represents the evolution of traditional radio broadcasting into the digital age.
HD Radio technology allows WUMB to transmit a high-quality digital signal. For you the listener, the benefits are:
Advantages Of HD Radio
FM radio with CD-quality sound
Digital technology allows WUMB to transmit more data in the same amount of bandwidth. Primarily, this means higher quality sound. So much more so that FM transmissions have CD-like sound quality.
AM radio that sounds as good as FM Stereo
AM radio uses smaller sections of bandwidth than FM. There is not enough bandwidth to give AM stations the same CD-quality signal as FM stations. But there is enough room to give AM stations clarity equivalent to current analog FM stereo radio. Gone are the days of "noisy" AM radio. This boost in sound quality is expected to make AM radio a viable, mainstream listening alternative to FM, which means more options for listeners.
No more static, pops, crackles or fades
The digital signal is less vulnerable to reception problems. The radio tuner's digital processors eliminate the static, pops, hisses, and fades caused by interference. Multipath distortion, caused by the radio signal being reflected off of buildings and other surrounding obstructions, is completely removed. You hear only clear, clean, rich sound.
Should you lose the digital signal for some reason (obstructing terrain, nearing the edge of the broadcast area, etc.), HD Radio technology defaults back to analog mode, similar to the way current radios switch from stereo to mono mode when receiving a weak signal. The radio sacrifices detail in an effort to boost reception.
Transmission of additional information
Another benefit of digital radio is the radio station's ability to transmit additional information along with the music signal. Typically, this takes the form of scrolling text on your receiver's display, such as a song's artist and title and station call letters.
How It Works
HD Radio technology works pretty much just like traditional analog radio transmission:
WUMB sends out the analog and digital radio signals, along with a third signal for text data.
The digital signal is compressed before being transmitted.
The three-layered signal is transmitted from the radio station's upgraded digital transmitter.
Multipath interference, caused by the signal reflecting off of buildings, is ignored by the digital radio, which is able to discern the true signal and ignore interference.
Your radio receives the signal and, depending on your equipment, you hear either the digital or analog feed.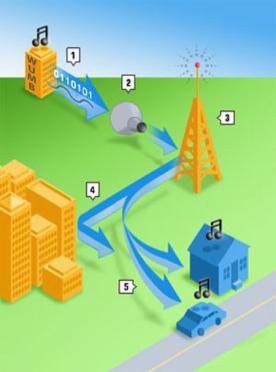 What HD Radio Is Not
HD Radio technology is not a subscription service, like satellite radio. It is the same free, over-the-air broadcast radio that we've always known. Only better. It is not something that consumers have to buy into. Everyone can choose to continue listening to their current radios, but eventually all AM/FM radios will incorporate digital technology. It is a natural evolution of the medium. Soon, if you turn on a radio, you'll be listening to an HD Radio tuner.
HD Radio technology is not a competitor of satellite radio. It is an improvement to terrestrial AM and FM radio. Satellite radio is an alternative to terrestrial radio, in the same way that cable or satellite TV are alternatives to broadcast television. Even if you do have satellite radio, there are often times when you want to listen to local radio.