The most common question asked by our listeners is how they can improve their reception of 91.9FM's signal. Because of the tall building in the greater Boston and Worcester areas, combined with the relatively low power with which 91.9FM broadcasts, signal reception is difficult for listeners in the downtown areas, in particular, but also in some remote listening areas as well. Click here to view our signal coverage map.
Below are several suggestions for improving reception of our broadcast signal.
Do you have an antenna on your radio?
The first thing you should do is make sure you have an antenna on your radio. Again, because of 91.9FM's low power, most radios without an antenna will not get our signal clearly, or at all. Some radio or electronics stores have FM antenna booster you can purchase to help FM radio reception -- sometimes they work very well, but save your receipt in case it doesn't.
Do you have a telescoping antenna?
If you have a telescoping antenna, simply telescope the antenna out until it is thirty and one-half inches long. Because you have "tuned" your antenna, the 91.9FM signal resonates within the arms of the "dipole" for the sections of the telescoping antenna and its strength is increased.
Make Your Own Antenna!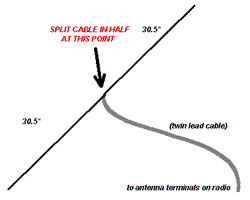 Another simple solution is to make an antenna that is optimized for our 91.9MHz signal. This should not significantly alter the reception of other radio stations, but it should considerably improve your reception of 91.9FM. To make this antenna, you need about eight feet of two-conductor cable and some strong tape. Ordinary lamp or speaker cable will work well, but ideally you should use twin-lead cable -- the kind used to connect your TV to a rooftop antenna.
The first step is to strip one end of the cable to expose about a half inch of each wire. This is the end you'll attach to your stereo receiver. Next, measure out five feet of cable from this end and tightly wrap some strong tape -- electrician's or duct tape will work well around the cable at this point. Now you must measure exactly thirty and one-half inches from this tape and cut the cable. Then, use a knife or scissors to separate the two wires back to the point where the tape is wrapped around the cable. Do not remove any of the plastic insulation! You should now have a "T" shaped set of wires as shown in the drawing. This is technically called a dipole antenna which is "tuned" to resonate at 91.9MHz.
To set it up, simply attach the two stripped wires at the base of the "T" to the ANTENNA terminals on the back of your tuner and receiver, and tack or tape the "arms" on the wall -- but, make sure you maintain the "T" configuration. This antenna is most sensitive to signals coming at it "face-on", so choose a wall that roughly faces the directions of any of the three 91.9FM antennas in Quincy, Spencer or Worcester. Experiment with different positions on the wall to get the strongest reception. You can lengthen the "neck" of the "T" if necessary, but five feet is usually sufficient.
Buy an antenna from us
WUMB has purchased some special T-type antennas which seem to work incredibly well for listeners who have had a difficult time pulling in our signal. If you'd like to buy one, contact wumb@wumb.edu, for details. The cost is $25, and we will refund all but $5 if the antenna does not improve your reception.
One of the last resorts-Mount an antenna on your roof!
Some listeners even have an FM antenna mounted on the roof of their house and have it directly connect it into their radio receiver, just like you would a TV antenna. If you have a regular TV antenna on your roof already, it probably won't work well as a radio antenna, because it's polarized differently. Your local radio or electronics store can help with your purchase.
Your absolute last resort!!!
Call us at (617) 287-6900 during business hours and leave a message, or e-mail our Chief Engineer, Grady Moates, with your specific problem.
Is there any hope if nothing above works?
Some listeners have successfully convinced their local cable television provider to include the 91.9FM signal as one of the audio background services to a "Community Bulletin Board" channel. Listeners in Falmouth and Auburn, MA have been successful in this endeavor, and can now enjoy 91.9FM by turning on their local cable television -- kind of strange to be listening to your tv, but it works! If you're north of Boston or in southern New Hampshire, try us on 91.7FM since we now have a repeater antenna in Newburyport, MA. And don't forget, you can also now listen to us live on the internet 24 hours/day.